Join us for our weekly Wednesday 'Storytime with Alton Walley,' and access resources and recordings.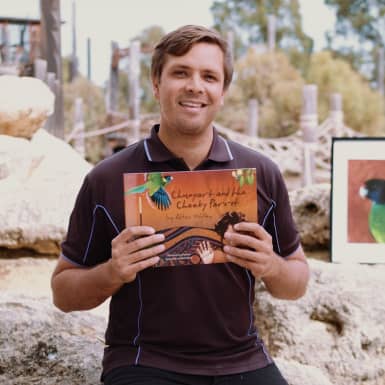 Alton Walley is a Whadjuk, Wilman, Kaneang Nyoongar man from the South-West of Western Australia. Each week Alton will be reading a book from a Western Australian author at a different location in Perth.

View our weekly book reading segment, 'Storytime with Alton Walley' and access further resources.
Week 6 - Maku
This week Alton Walley reads Maku from WA Museum Boola Bardip. Watch the live stream on our Youtube page.
About the book
Maku loves watching movies. It's his favourite thing to do. He especially loves movies with superheroes. Maku's second favourite thing to do is go bush with his nan and pop. They show him the Emu in the sky and tell him about the Rainbow Serpent.
Teaching resource
This week Alton Walley reads 'Chunyart and the Cheeky Parrot' from Kings Park and Botanic Garden. Watch the live stream on our Facebook page.

About the book

A young Nyoongar boy called Chunyart is taking his first journey towards becoming a man. He has much to learn from his family about the land and its useful plants. But with a cheeky parrot for a friend, there is plenty of mischief along the way.

Teaching resource Nyoongar words and definitions

Look out for these words below in the story.

Balga (bal-gah) = native grass tree (Xanthorrhoea)
Bardy (baar-dee) = witchetty grub
Beeliar (beel-i-yar) = traditional name for the Swan River
Bibool (bib-ool) = native Paperback tree with many uses
Boodja (bu-dj-ah) = the land
Beedawon (Bee-du-wong) = meeting place
Chunyart (choon-yahrt) = boy's name meaning '28 parrot'
Corrobooree = traditional dance
Kaarta Gar-up (car-tah gar-up) = traditional name for the distinctive cliff/scarp around Kings Park
Kaarta Koomba (car-tah coom-ba) = the place that we now known as Kings Park
Karla (car-lah) = fire, campfire
Katitjin (cut-it-jin) = knowledge, traditional knowledge handed down from one generation to the next
Keitch (k-eech) = spear
Kerbein (ker-bin) = Coastal Sword Sedge
Kodja (cod-jah) = traditional axe made from stone and wood
Kondil (con-dill) = native Sheoak tree, good for making kylee (boomerangs)
Kylee (keer-lee) = boomerang
Maam (maarm) = man/men
Meero (mih-ro) = spear thrower
Mia-mia (my-yah, my-yah) = traditional temporary huts
Nyoongar (nyoo-ng-ah) = first people from south-west Western Australia
Tuart (tew-art) = native Eucalypt tree used for making tools and other implements
Waugal (wah-gool) = rainbow serpent from the dreamtime
Whadjuk Nyoongar (wod-juck nyoong-ar) = Nyoongar group from Perth and surrounding regions
Wonnil (wun-ill) = Peppermint Tree, native to the Swan Coastal Plain
Yonga (yon-gah) = kangaroo
Yongra (yon-grah) = kangaroos
Yonga Booka (yong-gah book-a) = kangaroo skin cloak
Yorga (yor-gah) = woman
Yorgra (yor-grah) = women
This week Alton Walley reads Lion is that you? from Caversham Wildlife Park. Watch the live stream on our Facebook page.

About the book

Written by award-winning author/illustrator Moira Court, in this picture book readers search among the native Australian flora for hidden animals including a feral Lion, a Bobtail lizard, a Dugite, a Redcap parrot, an Echidna, a Goanna and a Quenda.

Rumours abound of ex-circus cats roaming wild in the hill. But are the stories true? Join in the search, and discover lots of different animals in the Australian bush along the way.

Teaching resource
This week Alton Walley reads Lion is that you? from Caversham Wildlife Park. Watch the live stream on our Facebook page.

About the book

The convict bushranger Moondyne Joe wasn't famous for robbing banks or gun fights. Instead, he was known for his ability to escape prisons wherever he was apprehended! His catch cry was "They'll not take my freedom away!".

Wearing a kangaroo-skin cape and possum-skin slippers, he found freedom in the wooded valleys and winding creeks at Moondyne Hills. Joe was deemed by most early settlers as 'harmless', except possibly to a few settlers whose horses always seemed to disappear. When blamed for the disappearance of a farmer's prize stallion the colonial authorities were soon to find out that there wasn't a jail that could hold Joe! He was a criminal that couldn't be held captive.

Teaching resource
This week Alton Walley reads Stellarphant from Perth Zoo. Watch the live stream on our Facebook page.

About the book

Heroes come in all shapes, sizes, and species. Stella wants to be an astronaut. There is only one problem: Stella is an elephant. Every time she applies to Space Command, they produce a new reason she cannot join. But where there is a will, there is a way and Stella is determined to reach for the stars. Does she have the right stuff?

The book is a read aloud picture book, as an informative introduction to the idea of space travel as well as promoting inclusivity, with the engaging character Stella.

Teaching resource
This week Alton Walley reads The Deep from The Aquarium of Western Australia. Watch the live stream on our Youtube page.

About the book

Alice is a young girl who lives by the sea with her family who spend their time playing and swimming in the water. Alice loves the beach too and she longs to join her family swimming in the deep, but she fears what may be down in the dark green-blue waters where you cannot see the bottom.

Teaching resource